News / Press Release
DIGI-CARDS COMPLETES LATIN-AMERICAN PRESENCE, EUROPE NEXT
CANNES, FRANCE JANUARY.27.10
Digi-cards has reached a important milestone by signing the last remaining Latin-American country on its list this past week during MIDEM and now, plans to continue its expansion in Europe are in motion. Gerardo Alton-Ortega, CEO of Vital Digital LLC parent company of Digi-cards met with Luis Velez, CEO of Bicho Raro SA. de CV. (Mexico) and Giacomo Di Mase, CEO of OrangePark (Italy) during the convention to talk future strategies and globalization. Bicho Raro now owns licenses in eight (8) countries throughout Latin-America and has started a very aggressive promotional campaign in Mexico to introduce the new Digi-cards concept to potential clients and consumers. Gerardo also talked about the future expansion in Europe announcing the set up of a satellite office in the Monaco area to operate the new strategic European growth plan. (Picture) Luis Velez (Bicho Raro), Gerardo Alton Ortega (Vital Digital LLC), Giacomo Di Mase (Orange Park).
VITAL DIGITAL, LLC TO SIGN DEALS WITH 12 MORE COUNTRIES DURING MIDEM.
MIAMI, FL JANUARY.19.10
Vital Digital, LLC, parent company of Digi-cards will add 12 more countries to its list of exclusive product distributors. Next week Vital Digital, LLC will sign with eight (8) more countries through its current Mexico partner, most of them in Central America and Caribbean, for the continuous growth and commercialization of Digi-cards and all of its products. Vital Digital, LLC will also sign Letters of Intent with the Nordic States (Norway, Finland, Denmark and Iceland) for distribution rights of Digi-cards for the next nine (9) years. These meetings will take place in Monaco and Cannes around the MIDEM (World Music Convention). Digi-cards is the fastest growing multimedia delivery systems via cards company in the world.
DIGI-CARDS 3.0 WILL DEBUT DURING MIDEM IN CANNES, FRANCE.
MIAMI, FL JANUARY.18.10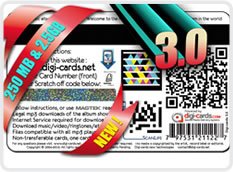 The first batch of Digi-cards 3.0 which have faster downloads, 75% more capacity and are compatible to all mobile applications will make its debut through the hands of some lucky MIDEM 2010 attendees this coming week. Gerardo Alton Ortega, CEO, will hand carry the first batch with him during the Conference, as will the heads of his Mexico and Italy Distributorships. Digi-cards have evolved to be the fastest and most advanced download cards system in the world, and many of its clients now include numerous Fortune 500 companies as well as multinational corporations with applications including music, multimedia & promotional cards to confidential document delivery cards.
DIGI-CARDS COMPATIBLE WITH NEW AUTOMOBILE MULTIMEDIA DASHBOARDS.
LAS VEGAS, NV JANUARY.11.10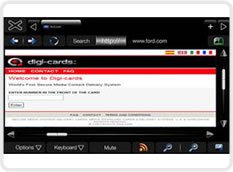 One of the best received surprises during CES 2010 was the new "MyFord Touch" multimedia dashboards which look like the way of the future for all automobiles and the best thing for all is that Digi-cards are fully compatible with it′s system. "There is no doubt in my mind that the future is starting to shape up the way we expected, with Internet access in all vehicles, full compatibility between different technologies and all of this to give consumers access to infinite possibilities. "With this latest release (MyFord Touch) I envision people buying digi-cards while pumping gas to be immediately downloadable fast and secure to their vehicles, to their phones, to their computers and finally to their Home entertainment systems, the last three we had, now we are happy to inform you that the first one is now a fact" Gerardo Alton-Ortega (CEO) said.
DIGI-CARDS MEXICO SIGN LARGEST DIGI-CARDS DEAL TO DATE.
MEXICO CITY, MEXICO NOVEMBER.17.09
Bicho Raro SA. de CV, distributor of Digi-cards Mexico, signed one of the largest single artist deals to be distributed in Blockbuster Video stores scheduled for release this Christmas. The deal which totals 500,000 Digi-cards is the largest single order to date of the newest multimedia distribution system Digi-cards. Luis Velez, CEO of Bicho Raro SA. de CV. announced that starting this Christmas, Blockbuster will distribute multi-platinum recording artist Diego Shoening′s album in conjunction to a promotional rental deal. When asked why Digi-cards was chosen, representatives of the company answered "We have never seen anything more convenient and logical in which to distribute multimedia, not only is it a financial and logistical dream, but the data that can be collected from end-users will provide incredible value for us, we have not seen a better physical method of distribution than this in years". The Diego Shoening Digi-cards album "Lo que soy" contains 11 songs in HD audio, along with ringtones, wallpapers and HD videos.
CHILE GETS INTO DIGI-CARDS ACTION
MIAMI, FL NOVEMBER.10.09
Chile has become the seventh Latin American country to receive a Digi-cards exclusive License and Distributorship and Pocket Disc, LLC has become the largest distributors in the world for Digi-cards and all its product and technologies. The new deal which started in late June and got inked today with a contract signing ceremony is expected to last until 2018. This deal is to become a great investment for Pocket Disc, LLC since Chile has been battered by piracy of multimedia, music and videos in the last decade and has been in search of a new standard distribution method. "We will continue our growth with our great partners Pocket Disc LLC. I cannot be happier for them and I am thrilled for our company to have found a partner like Pocket Disc, LLC to help extend our reach to the incredible country of Chile" Gerardo Alton Ortega said. Pocket Disc, LLC expects to initiate business by the end of the year and already has strong ties with clients working on Digi-cards projects there.
DIGI-CARDS 2.0 WORLDWIDE RELEASE AT WOMEX
COPENHAGEN, DENMARK OCTOBER.30.09
Digi-cards 2.0 made their official worldwide release during WOMEX , "The World′s Music Expo" in Copenhagen this past weekend. In front of thousands of music executives from all over the world Digi-cards CEO Gerardo Alton Ortega demonstrated the versatility of the new multimedia distribution cards. "I liked the "Wows" from the attendees, since most speak languages I have never heard before, but now I know that "wow" means surprise and admiration in all languages". Digi-cards great success has become the new standard of secure multimedia distribution around the world. Digi-cards are inexpensive, logistic friendly, extremely secure and their user friendly interface (mobile or non) make them a viable option for all types of multimedia distribution uses. Digi-cards 2.0 are now available worldwide and recording artists certainly appreciate them.
DIGI-CARDS 2.0 BIG SPLASH AT AMSTERDAM DANCE EVENT
AMSTERDAM, NETHERLANDS OCTOBER.23.09
Digi-cards 2.0 received a great reception from patrons at the 14th International Conference on Electronic Music or better known by the music industry as the "Amsterdam Dance Event". Hundreds of renowned DJ′s and music producers embraced the new Digi-cards 2.0 and their new mobile friendly technology. DJ′s around the world that are well known for selling their albums with Digi-cards in the past years, are thrilled with the fact that their clients or end users can ride back home listening to their albums. Digi-cards have become the standard of music album distribution around the world and now have distributors in over 25 countries. Another advantage of Digi-cards is the fact that once produced, they ship worldwide next day free, meaning any DJ or producer can have access to Digi-cards while on tour. "My life was changed by Digi-cards, now I earn two to three times more than what I used to before them, and these days I sell my music with ease while touring" said DJ Red during the convention.
MEXICO ENTERS THE DIGI-CARDS CRAZE
MIAMI, FL OCTOBER.21.09
Mexico enters the Dig-cards craze with the announcement this week of the new partnership in Mexico with Bicho Raro SA de CV. Digi-cards leaps into the largest Latin American market as Mexico is one of the largest consumers of multimedia in the world. Digi-cards and Bicho Raro SA de CV will begin a new era with this exclusive distribution deal, even though Mexico has been a market for Digi-cards for the past couple of years. Vital Digital LLC had only a representative office there, however with this latest agreement signed, we expect Digi-cards to blast off to a new level as a multimedia distribution standard. "Bicho Raro is one of the fastest up and coming promotion companies in Mexico and we could not be happier with this new partnership" -- Gerardo Alton Ortega. The final contract will be signed the middle of November with a huge launch and announcement to all Mexican media organizations. Digi-cards is the world leader of secure digital media distribution via cards operating under the parent company of Vital Digital LLC.
EUROPEAN LAUNCH OF DIGI-CARDS 2.0
LONDON, UK OCTOBER.16.09
The new Digi-cards 2.0 (Mobile compatible/Mobile tagging) will launch during two major events in Europe in the coming weeks. Digi-cards 2.0, which each carries five new technologies for downloading, the QR-code or 2d code, Scanlife, UPC dial code, the new Microsoft Tag or HCCB Barcode, and the Magstripe swipe (USB), will be presented during the International Conference for Electronic Music in Amsterdam and the World Music Expo (WOMEX) in Copenhagen. "We intend to show the most advanced, secure, consumer friendly and most efficient digital download cards in the world in the coming weeks" Gerardo Alton Ortega CEO said. "Our product continues to get better weekly and our growth around the world has been exceeding expectations. I will be very proud to personally introduce our newest product to the European market which relies heavily on mobile applications". The Digi-cards 2.0 have been in beta testing this past year and now they have become standard for all clients and are fully functional.