USB DRIVES DANGEROUS, DIGI-CARDS DOWNLOAD CARDS SAFE
MIAMI, FL. AUGUST.11.14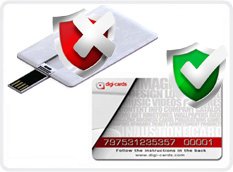 ACCORDING TO RECENT STUDY USB DRIVES "CRITICALLY FLAWED" About one year a go we had a client that chose USB drives with the form of a card instead of our content download cards, we immediately worked out a study looking for the benefits that our Digi-cards offered over the USB drives which you can read here: digi-cards.com/en/blog/?p=165 well, now we have another reason companies should choose our Digi-cards for any multimedia or content distribution rather than USB drives. The BBC just published a note about a "critical flaw" in all USB drives which you can read here: www.bbc.co.uk/news/technology-28701124 . Digi-cards has been producing custom download cards for over 8 years for industries like recording, advertising, promotions, research, turism, publishing and many others. Download cards are now one of the the world leading innovative products that help promote, advertise, and distribute electronic files or virtual content while collecting very specific data and valuable information from end users to benefit our clients. For more information on Digi-cards download cards please visit www.digi-cards.com or www.download-cards.com
DIGI-CARDS DOWNLOAD CARDS BIG IN JAPAN
PRINCIPAT D´ANDORRA JULY.30.14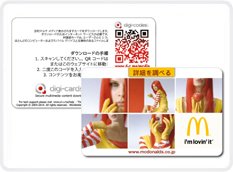 DIGI-CARDS WILL DEMONSTRATE CAPABILITY IN WORLD'S LARGEST MOBILE MARKET
Digi-cards download cards have always been in the forefront of technology, not only on their IT platform but also on their printing, applications, design and Add-ons. This is why now Digi-cards will launch in Japan the largest mobile and smartphone market in the world. Download cards have become the last physical device to attract end-users to virtual and electronic files via internet, their efficiency and versatility make them a favorite marketing, promotion and distribution tool. This is why now Japan has chosen Digi-cards multimedia download cards to land their market and become the standard in this industry. Once again the brand Digi-cards becomes the first and only in expanding markets "And we are so excited about it we will celebrate with Sushi & Sake tonight" says Gerardo Alton-Ortega CEO of Vital Digital Global Corp. parent company of Digi-cards. Digi-cards are now delivered to over 150 countries globally with presence in 4 continents. For more information please visit www.digi-cards.com or www.download-cards.com
THE NEW PRODUCT AND INDUSTRY OF THE DIGI-PASSES ARE HERE
MIAMI, FL. JULY.15.14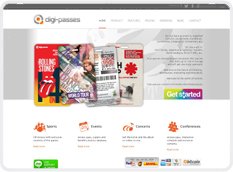 DIGI-PASSES NOW AVAILABLE FOR EVERYONE STARTING TODAY
The new product developed by Vital Digital Global for organized events "Digi-passes" are available starting today. From the creators of the original download cards "Digi-cards" now come Digi-passes the new content download passes with virtually a ton of features. Digi-passes are a form of VIP Passes made out PVC plastic material that are virtually impossible to replicate or counterfeit. They are compatible with 99% of public or facility entry systems, hardware or software and they also have printed Digi-codes that allow you to access specific or exclusive content for the end user. Digi-passes download pass allow the end user to download event information like maps, schedule, agenda, last minute information on any mobile device like smartphones, tablets or PC as well as provide very important information to the client, event organizer, sponsor, etc. One of its main purposes will be music concerts where it opens the possibility to package sales of a ticket or pass plus music or exclusive content. Vital Digital Global is the worldwide leader producer of physical to virtual products like Digi-cards download cards and Digi-codes download codes. Digi-passes open the ticketing industry with extra benefits, for more information visit www.digi-passes.com or search Vital Digital Global Corp.
THE NEW DIGI-CARDS 5.0 LAUNCH AS SCHEDULED
MIAMI, FL. JUNE.27.14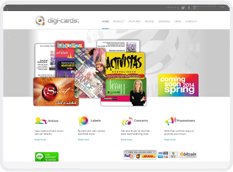 DIGI-CARDS LIGHT OR 5.0 LAUNCH IN USA AND CANADA
The new lighter version of Digi-cards download cards have launched successfully in the USA and Canada this week. The new version, a scaled down version of the world renowned Digi-cards multimedia download cards are more affordable and easier to use, they also offer certain benefits that have been implemented to both types of Digi-cards. The original version, preferred by corporate clients and global labels looks more like a credit card with a combination of numbers in the front and back of the card that make Digi-cards almost impossible to breach and are favored when the content is very valuable. Digi-cards 5.0 or "Light" use only a patent pending Digi-code which is a combination of a QR code, shorturl and alphanumeric code which is also very difficult to breach. Digi-cards 5.0 are more affordable and will continue using the PVC plastic and the printing quality that have made Digi-cards download cards the global leader manufacturer of custom multimedia download cards and the award winning download system that accompany them. To learn more about Digi-cards 5.0 please go to www.download-cards.com
DIGI-CARDS NOW MODELS AND ACTORS BOOKS AND PORTFOLIOS
MIAMI, FL. JUNE.24.14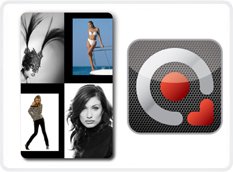 DIGI-CARDS DOWNLOAD CARDS ENTER THE GLAMOUR INDUSTRY
Digi-cards Download Cards are a new tool in the glamour world of actors and models. Models will now be able to carry their headshots, portfolio or "book" in their pockets or purses with this new development. Digi-cards 5.0 or "Light" which start at $199.00 all inclusive for a startup kit of 500 will give actors and models the opportunity to promote their work privately and in a hand to hand or mail-in way to prospect producers, directors, marketing agencies and model or actor agencies. With up to 1GB of content each actor or model can upload high quality images, pictures, videos, etc. and will know who and when has looked at their content enhancing the very important follow up contact. Digi-cards download cards are the world leader producer and manufacturer of multimedia download cards and this is just another industry taking advantage of the efficiency and innovation Digi-cards brings into the table. For more information on the new Digi-cards books or portfolio kits, please visit www.download-cards.com
DIGI-CARDS WILL GUIDE ATTENDEES DURING SOCCER WORLD CUP
MIAMI, FL. JUNE.10.14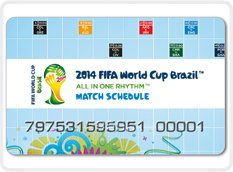 DIGI-CARDS PRESENT AT BRAZIL 2014 WORLD CUP
Digi-cards download cards will reach the hands of thousands of attendees to the soccer world cup during Brazil 2014. The Digi-cards will have the game schedule, maps and more content that will help as a guide during the event, official sponsors will also provide content helpful to the end users. Even though all this electronic content is available at FIFA website digi-cards download cards will provide a one place access and one click download for all the relevant information. Digi-cards have become an efficient replacement to other printed media and still provides a tangible product to the end user who can keep most of the information in their wallet and with easy access through Wi-fi. It is not the first time Digi-cards download cards have been used at sporting events, Digi-cards and Digi-passes have been used during NHL (National Hockey League) games in the United States and as Season Passes at International and National Soccer Leagues around the world. Digi-cards download cards allow individual access to multimedia content or any electronic files stored in secured servers.
DIGI-CARDS GUARANTEES CLIENTS SALES INCREASE
MIAMI, FL. MARCH.11.14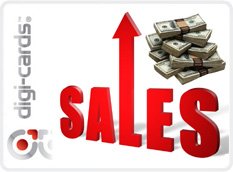 In a bold move to show how valuable Digi-cards are if used as a marketing tool, Vital Digital Global, parent company of Digi-cards has guaranteed an increase of sales of any product if Digi-cards are attached as added value or VDG will give you money back. In a direct pitch to corporations, manufacturers and product distributors worldwide, Digi-cards will guarantee an increase in sales of their products simply by adding Digi-cards to it, loaded with multimedia content, contests, coupons, etc. With this customer instant gratification, Digi-cards offers branding built on the theory that no one throws away a credit card so its visual impact will be long lasting. Digi-cards also offers something that most of the competition has not offered, and that is the ability to create an incredible database-building opportunity. Case studies have demonstrated the power of Digi-cards as a low cost marketing tool with high value product that will increase sales. For more information make sure you ask you account executive or contact corporate sales.
VITAL DIGITAL GLOBAL REPORTS 2013 TOTAL SALES INCREASE
NEW YORK, NY. FEBRUARY.12.14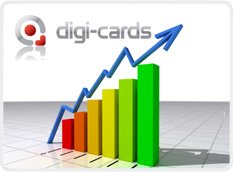 Vital Digital Global, the parent company of Digi-cards and Digi-codes reported better year to year sales from 2012 to 2013 with a total gross sales increase of 19%. Gross sales of its Digi-cards product was helped by a total net increase in sales in its European Division and a small increase in LATAM, however sales in the USA stayed flat due to copy-cat competition that offers a lower quality product and service for less, attracting the smaller budget clients. Gerardo Alton Ortega CEO of the company said that "Due to the economic turmoil around the world, we are happy to be selling more and more every year and with the release of the new Digi-cards 5.0 this year, we expect to regain momentum in the lower end download cards market which will help sales in USA and Canada", he also added "We will also be releasing new products and we have a strong hold on the corporate market due to the quality of our product and service". Digi-cards are the world leading manufacturing and producer of multimedia download cards with presence and sales in over 60 countries during 2013.
DIGI-CARDS WILL SPONSOR ALL QUALIFIED EVENTS
NEW YORK, NY. JANUARY.15.14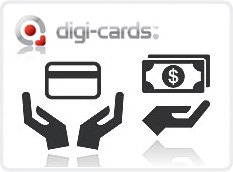 Vital Digital Global Corporation parent company of Digi-cards announced today that it will sponsor all qualified events starting May 1st of 2014 by allowing all event organizers to submit a simple form. The sponsorships will allow event organizers to raise from $500.00 USD to up to $100,000.00 USD depending on the size of the event and based on past attendance records. There will be three types of sponsorships: full sponsorship, co-sponsorship or partial sponsorship and the rules and regulations will be posted in May 2014 in a website dedicated to this program. All events that are related to multimedia or can distribute their own multimedia content during the event will qualify. Events as big as sports games to music concerts or as small as church fundraising events to art exhibitions can participate.
DIGI-CARDS 5.0 WILL LAUNCH IN FEBRUARY 2014
NEW YORK, NY NOVEMBER.27.13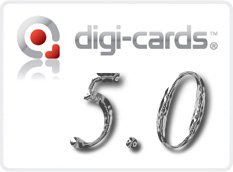 Digi-cards will launch its latest version, 5.0 of the now world renowned Digi-cards download cards. This new version will be more efficient for the end-user, and will be also more versatile. Keeping his "cards" close to the vest, CEO Gerardo Alton-Ortega explained during a conference call that Digi-cards 5.0 will have faster download times due to adjustments in the system and content delivery networks, as well as more efficient upgrades to the hardware in the mainframe data center. Digi-cards will be even more secure and will continue to offer the same space as the older 4.0 version, due to the compression capabilities now allow more content in less space. He also said the cost of production will be less therefor Digi-cards will be able to pass savings through to the clients, with all the same perks clients have been accustomed to. "We expect, again, to set a precedent to all copycats out there". It was not announced if the awaited content data encryption will be available in this new Digi-cards 5.0 version.