News / Press Release
EUROPE ON PACE TO BECOME BIGGEST CONSUMER OF DIGI-CARDS
PRINCIPAT D´ANDORRA MARCH.05.13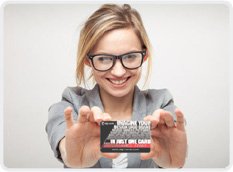 Since its humble beginnings, Digi-cards which started out as an almost door to door sales operation has become a standard of physical multimedia distribution. Digi-cards has proven its ability to be used as a marketing and research tool, as well as a product placement device that features its value-added service in its 6 years existence. The United States is the largest consumer of these multimedia download cards with Latin America in close second and Europe not too far behind, becoming the third and on pace to become the second largest consumer by the end of 2014. "Europe catches up fast in technology and embraces it very well" said Denis Jean Pascual, European Chief of Operations for Vital Digital Global, parent company of Digi-cards. Renowned companies and brands like E.leclerc & Pernord Ricard are relying on Digi-cards for better customer interaction and relations as well as marketing innovation with great results. These projections might even double once Digi-cards enters the European soccer world just like they did with the National Hockey League in the United States.
VITAL DIGITAL GLOBAL INTERNATIONAL GROWTH WILL CONTINUE ON 2013
NEW YORK, NY. JANUARY.15.13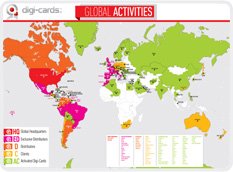 In spite of the global recession of the past few years, Vital Digital Global continues its growth on a yearly basis. Digi-cards were established in the United States in the late 2000's and quickly became an entertainment business household name, then by branding itself in Latin America in recent years Digi-cards moved towards Europe where now is becoming a well-known product. With distribution in more than 30 countries in the world, Digi-cards download cards have been redeemed in over 80 countries in 5 continents with multiple uses. Benefits vary from value-added product to multimedia distribution and more than 20 different business applications, Digi-cards download cards have become one of the most innovative and efficient marketing products in the world. During 2013 the expansion to the Middle East will continue by opening offices in Dubai, UAE and signing new exclusive product distribution licensing agreements in Europe, Latin America and the Middle East.
DIGI-CARDS & DIGI-CODES AS SWEEPSTAKES TOOLS
MIAMI, FL. JANUARY.10.13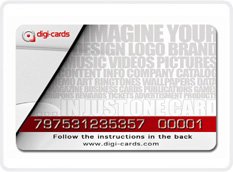 Digi-cards, for the past 3 to 4 years have been used by many companies as a marketing research tool.The strategy is simple, buy merchandise and get a Digi-card as a value-added product. Digi-cards not only offers product placement (in the pocket of the end user) but offers very valuable marketingresearch and demographics to the merchant. During the first couple of years of use with Digi-cards, this valuable data was exchanged for content (music, movies, e-books, games, and software). Lately, thetrend for data exchange has added a sweepstakes tool, creating the chance that someone could win a car, electronics, product, coupons, travel, etc. and makes it more likely the person will redeem the Digi-card, giving a higher percentage on the redemption rate. With Digi-cards, we always recommendutilizing both, the data exchange and the sweepstakes tool, as there is nothing like instant gratification mixed the chance of winning something big. Digi-cards and now Digi-codes are becoming the fastest growing marketing tools in the world.
WE AT DIGI-CARDS AND DIGI-CODES WISH YOU HAPPY HOLIDAYS
NEW YORK, NY. DECEMBER.18.12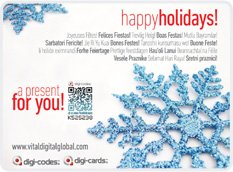 This year has been the most exciting year for Vital Digital Global Corp. as we launched our newest product: Digi-codes. During this season we reflect with all our team members of how fortunate we are of being able to share with all of our customers some of the most advanced marketing tools andmultimedia distribution products in the world. We would like to thank first of all our clients, who make this company growth possible, then to all of our distributors - local, regional, exclusive and international- all around the world, for believing in our products and our company. And last but not least, our team,because without you none of this would be possible. We share our goal of a prosperous 2013, and wish everyone who reads this Happy Holidays!
DIGI-CARDS AND DIGI-CODES PHYSICAL AND VIRTUAL SOLUTIONS IN ONE
MIAMI, FL. NOVEMBER.01.12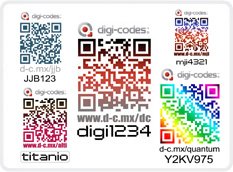 Digi-cards are now the best selling and re-selling custom multimedia download cards in the world and a favorite to artists because of their quality and money-making capabilities. "No one buys a paper or laminated card, you basically can only give them away, but a credit card-like download card sells itself no matter how unusual your music is" said Jerry Harp, International Sales Representative. If this was not enough of a selling point, now add to the equation Digi-codes, which give you the opportunity to sell directly through the internet without having to go through other venues. "Basically you get your own itunes download store without sharing with anyone and are able to distribute them through facebook or any other social networks". Digi-codes, the latest product to come out of Vital Digital Global is also becoming an integral part of direct multimedia distribution in both dimensions, physical and virtual. For more information go to www.digi-codes.com and www.digi-cards.com sites.
DIGI-CARDS CORPORATE AND MARKETING HOLIDAY GIFTS SOLUTIONS
MIAMI, FL. OCTOBER.29.12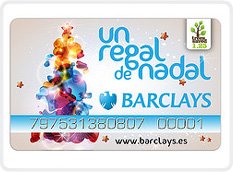 As every year at this time, Digi-cards Christmas Cards and Holiday Cards start production and make their way into the homes of happy end-users during the holidays. As one of the best ways of maintaining customer contact and relations, hundreds of companies around the world turn to Digi-cards to give one of the most efficient Holiday gifts ever, a customized multimedia download card. "There is a feeling of excitement when you get something in the mail or while walking around the mall other than a simple holiday email, something you can hold and keep in your wallet, desk, etc. and you can download a game, a Christmas song, an application, an eBook, etc." said Guadalupe Hernandez Moreno, European Sales Manager from Vital Digital Global Corp., parent company of Digi-cards."Think about this, how many stores, banks, insurance companies, give you a nice holiday gift during the holidays?" she added. Nothing better than Digi-cards with the logo of your company and a nice download as your gift to keep that feeling of giving during the holidays.
AFTER SIX YEARS IN BUSINESS DIGI-CARDS ARE STILL THE LEADER
NEW YORK, NY OCTOBER.17.12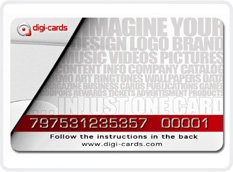 Inching closer to its patents, Digi-cards download cards are still the choice to fulfill the custom multimedia download cards needs of clients ranging from club cover bands to Fortune 500 companies globally. Six years ago the CEO and founder of the then Digimusicards Gerardo Alton-Ortega came up with an idea to distribute music albums. This idea and method of distribution through a card-like device has been purposely extending its patents pending status to establish the business model throughout the world. "Once you have a patent, companies will go around it to copy your business as closely as possible. When you have a patent pending, copy cats are placed on notice but help to develop and market your product until you finally get the patent and can proceed to negotiate licenses. This is our strategy. "In a worst-case scenario you fail to patent your product but you are still the leader in the business" said Don Luxenberg, legal head at Vital Digital Global Parent company of Digi-cards. The custom multimedia download cards are now an established marketing product, as well as a physical distribution tool known in most countries of the world. As a cost-efficient, eco-friendly, versatile and innovative product, Digi-cards download cards lead the way.
THE LONG AWAITED DIGI-CODES ARE NOW OFFICIALLY HERE
MIAMI, FL. SEPTEMBER.28.12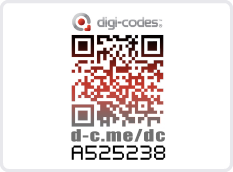 After one year of development and six months of beta testing Digi-codes, the newest brainchild of Vital Digital Global is officially released commercially. Digi-codes are the new patent pending product now being called "QR and 2D codes on Steroids". The Digi-codes are a combination of three required elements: a quick response code (QR code or 2D code) a Shorturl (HTTP Redirect) and a validation code (variable), the nexus of any of the first two with the validation code is what makes Digi-codes unique and with hundreds of commercial applications. Digi-codes and its patent-pending graphical configuration allows fast access from end users to content, surveys, genuine product validation or verification (anti-counterfeit) and many other applications while our clients benefit from database compilation, multimedia content distribution, added value and hundreds of other benefits. Digi-codes are part of the Vital Digital Global family, the worldwide leader manufacturer of multimedia download cards known as Digi-cards. For more information about Digi-codes please visit our corporate website at www.vitaldigitalglobal.com or the official Digi-codes website at www.digi-codes.com now live.
NEW HONG KONG OFFICES FOR ASIA EXPANSION AND LOGISTIC HEADQUARTERS
HONG KONG, HK SEPTEMBER.21.12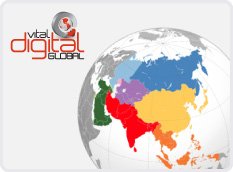 Vital Digital Global, parent company of Digi-cards and Digi-codes products, is setting its sights on Asia as one of the fastest growing smartphone populations with a lack of efficient physical distribution, thus increasing the potential of Digi-cards as added-value products for Multinational companies. Hong Kong is the capital of Asia, and the proximity to its manufacturing plants in Shenzhen is the perfect spot and has won over the other option: Tokyo. The Hong Kong office will be run by the Asia Sales Manager, soon to be appointed, as well as the Asia Chief of Operations Officer, Foris Mo. The goal of this office will be to function as a liaison with future Asia exclusive distributors, manage direct corporate sales, and also manage worldwide logistics. The goal of Vital Digital Global is to place its product anywhere in the world in less than seven days and Hong Kong makes this goal a reality.
VITAL DIGITAL GLOBAL CONTINUES EUROPEAN EXPANSION
MIAMI, FL. AUGUST.02.12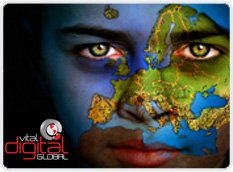 Vital Digital Global parent company of Digi-cards continues the European expansion welcoming E.D.G.S. sl. an Andorran corporation based out of Ordino, Andorra and now the new Andorra, France, Portugal & Spain exclusive distributor for all Vital Digital Global products. Gerardo Alton Ortega CEO and Denis Pascual Chief of European Operations signed the agreements this week in Principat d´Andorra with Miquel Vicente, President of the newly formed corporation. During the ceremony Gerardo Alton Ortega said that there is no better time than during economic uncertainty to establish yourself and your product to be ready for the imminent rebound. Sales of Digi-cards continue to grow in Europe where VDG already has distributorships in Italy and the U.K. with more to close before the end of the year.